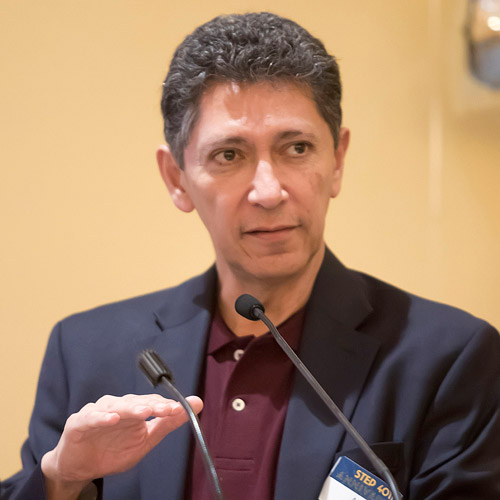 Arturo González was born in Auburn, California, in 1960, and his family moved to Roseville when he was three. His parents grew up in a Mexican village with no running water or electricity; his mother never went to school and his father went to school for only one day. Spanish was the primary language spoken in Arturo's home.
When Arturo was a senior at Roseville High School, he decided that he needed to become a lawyer. He painted "Harvard or Bust" on the side of his 1963 Volkswagen Beetle. In 1978, he graduated from high school, enrolled at UC Davis and became a member of the Special Transitional Enrichment Program (STEP). In his junior year, he had an internship with the Federal Public Defender's Office in Sacramento, and as a senior, Arturo served as one of two student assistants to the late Chancellor James H. Meyer.
He graduated with honors from UC Davis in 1982 and enrolled in Harvard Law School that fall after being accepted to all seven of the schools to which he applied. Following his second year in law school, he worked for Morrison & Foerster (MoFo), a large San Francisco law firm. Arturo was one of 35 law students working at the firm; he was the only Latinx summer associate and there were no Latinx lawyers.
After working as a summer associate, Arturo received an offer to return to MoFo as an attorney. Arturo was uncertain if he wanted to work at a large law firm, but a private conversation with Cesar Chavez changed his perspective. Cesar told him, "If you can, go work at one of those large law firms where there are no Latino lawyers, and be the best lawyer in that firm," and Arturo began as a litigator at MoFo in 1985.
Throughout his career, Arturo has represented some of the nation's largest corporations, but has also been committed to civil rights work, representing families and individuals who have been the victims of police misconduct. In 1992, he became the first Latino partner at MoFo. Arturo has been recognized as one of the nation's top trial lawyers, and in 2010, he served as president of the Bar Association of San Francisco.
Being a strong supporter of UC Davis, Arturo has established a scholarship in the name of his parents, Santiago y Gregoria González to help low income students, and he made a substantial contribution to the STEP Program for its 40-year anniversary. In 2020, Arturo pledged $1,000,000 to fund the González Pre-Law Academy, a program that will provide guidance, counseling and application support for students interested in attending law school.